Weddings at Rancho De La Roca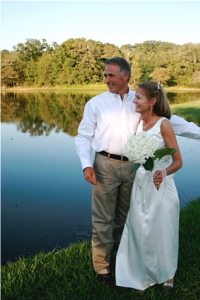 Rancho De La Roca provides an exquisite and enchanting location for any wedding. The beautiful 5-acre lake acts as the perfect backdrop for an outdoor wedding, and the pavilion provides ample covering for a wedding in the shade. Indoors, the air conditioned Cedar Lodge provides cool air, ample seating and rustic charm for a true Texas wedding. The Cedar Lodge also has a fully functional kitchen for indoor or outdoor receptions, and catering is available upon request for an additional fee.
"Rancho De La Roca was the most beautiful setting that we could have dreamed of for our wedding reception. We are a newly blended family that needed a casual but elegant atmosphere. Rancho de la Roca was a perfect blend of natural beauty, casual elegance, and fun. Whether this is a new beginning as a couple, a second chance as a blended family, or a renewal of wedding vows taken long ago, make Rancho De La Roca a part of your special day!"
- Cheryl